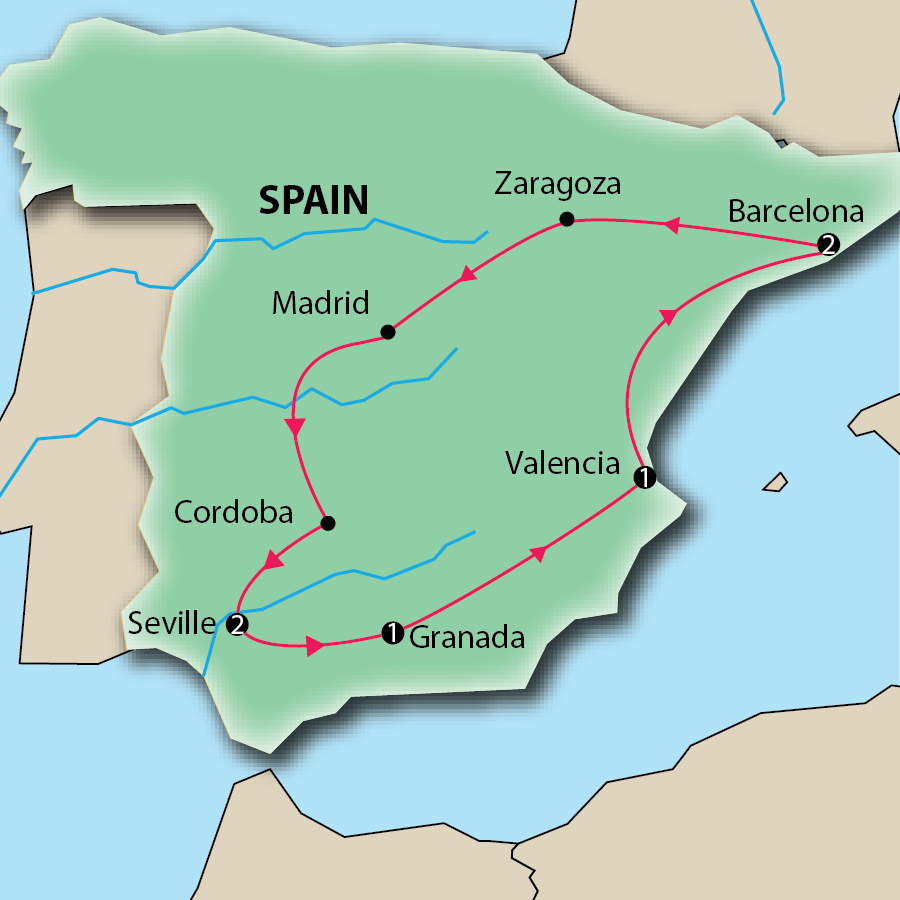 Included Features & Services:
Touring by modern air-conditioned motor coach
The following are not included:
Customary tips to your drivers, guides and escorts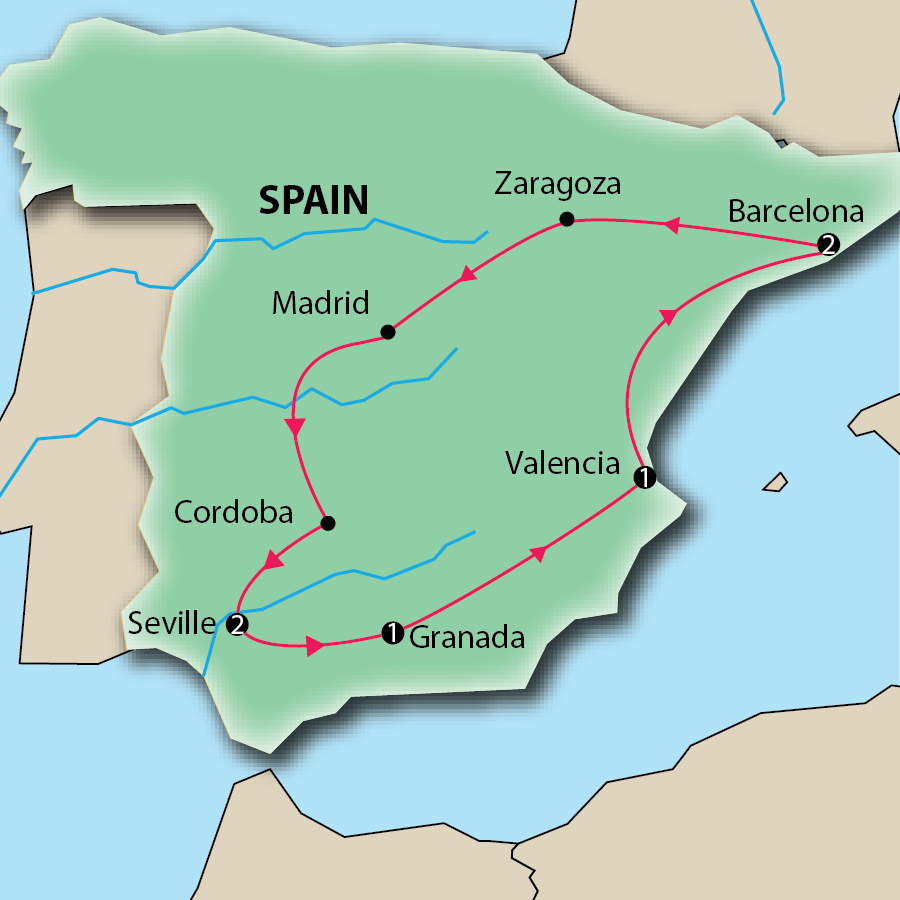 Day 1: Madrid - Cordoba - Seville
Depart Madrid at 8 am. Travel through the La Mancha region, home of Don Quixote, to Cordoba in Andalusia. and nbsp;Explore Cordoba s architectural wonders during a and nbsp;guided tour of the city. Visit its beautiful mosque and walk around the Jewish Quarter with its narrow streets and Andalusian patios. In the afternoon, continue to Seville. Consider attending an optional flamenco show in the evening. (D)
Hotel: Hesperia Sevilla
Day 2: Explore Seville
p In the morning join a city tour visiting the Barrio de Santa Cruz with its narrow streets, the Park of María Luisa, and Plaza de España, followed by a panoramic sightseeing of the city. Consider joining an optional artistic tour including the Royal Alcazar Palace. The afternoon is at leisure. (B,D) /p
Hotel: Hesperia Sevilla
Day 3: Seville - Granada
After breakfast, depart Seville and drive through the heart of Andalusia through an endless number of olive trees until you reach Granada, the last stronghold of the Moorish Kingdoms up to 1492. Enjoy a city tour and visit the world famous Alhambra with its numerous halls and patios. Continue to the beautiful Generalife Gardens. After dinner, we recommend an optional Gipsy flamenco show in the Sacromonte quarter. (B,D)
Hotel: Melia Granada
Day 4: Granada - Valencia
Depart in the morning via Guadix, Baza, and Puerto Lumbreras towards the Mediterranean coast. Arrive in Valencia. (B)
Hotel: Ilunion Valencia 4
Day 5: Valencia - Barcelona
After breakfast, enjoy some free time in Valencia. Continue to Barcelona at mid morning. (B)
Hotel: Catalonia Atenas
Day 6: Explore Barcelona
In the morning, enjoy a city tour visiting the Park of Montjuic offering spectacular views, the Olympic Ring, the monument to Columbus, and the old Gothic Quarter. The afternoon is at leisure. In the evening, consider joining an optional tour through the wide avenues and lighted buildings and fountains. (B)
Hotel: Catalonia Atenas
Day 7: Barcelona - Zaragoza - Madrid
Depart Barcelona after breakfast. Your journey takes you through Lerida and Zaragoza where you will make a short stop. Continue to Madrid. (B)

Touring Date

Land Only

Land + Air

Single
(Land Only)

Single
(Land + Air)


No Departure Date Information was found for this Tour. This could be due
to our website undergoing an update.

Please call a tour specialist at 1-800-942-3301 for personalized assistance.

Note: Departures appearing above in green are guaranteed to operate by the tour operator.

Airfare Disclaimer
A NOTE ABOUT AIRFARE: We encourage you to buy your airfare from the tour operator, because if your tour cancels then your airlines tickets will be covered. Purchasing flights separately at a lesser rate and incorporating it with a Non-Guaranteed Departure Date can result in loss of total cost of your flight investment. Depending on the fare rules, flights may be Non-Refundable and/or Non-Transferable. Neither the tour operator and/or Atlas Cruises & Tours will be held responsible for loss if a tour is cancelled for Lack of Participation.

Documents
TRAVEL DOCUMENTS: Necessary Travel Documents such as Passports and Visas is the responsibility of the traveler. Passports must be valid six months from your return travel date.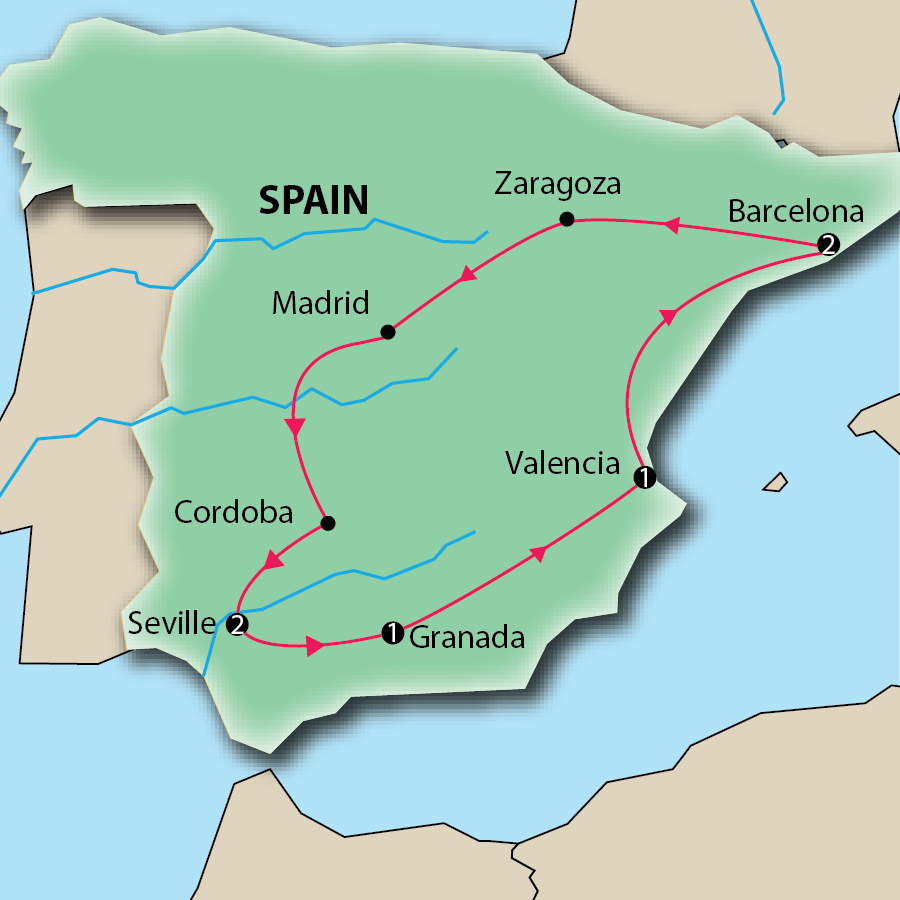 See Itinerary for highlights.