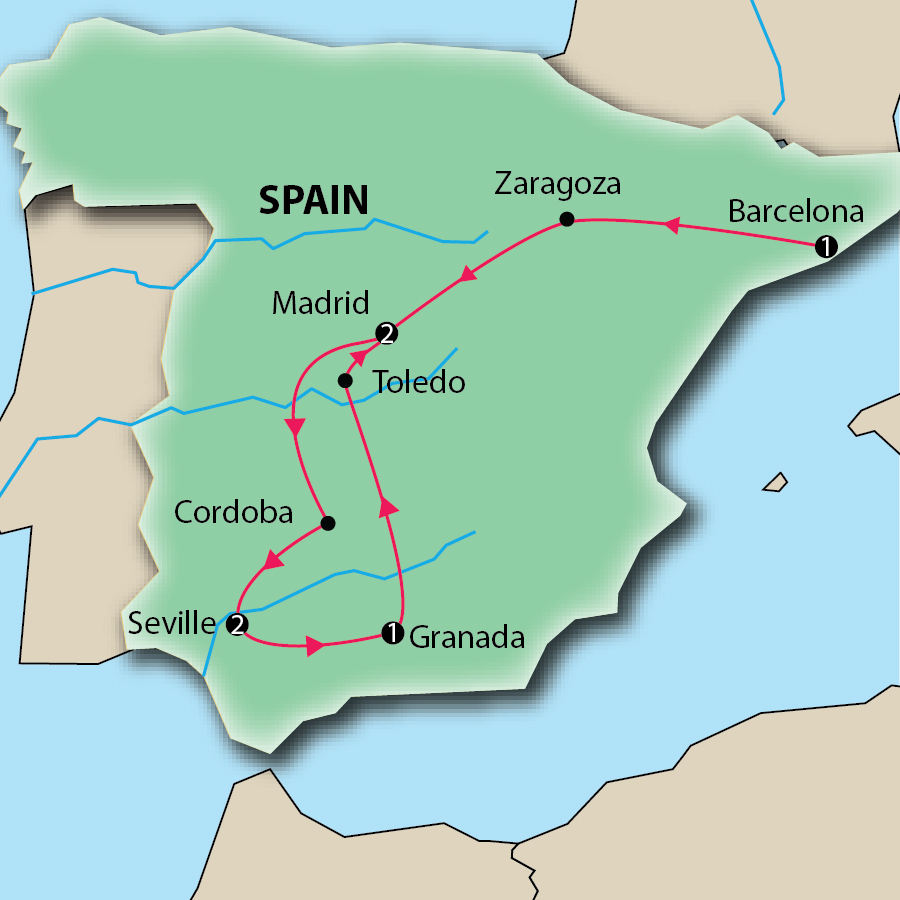 Included Features & Services:
International roundtrip airfare if air and land package is selected
The following are not included: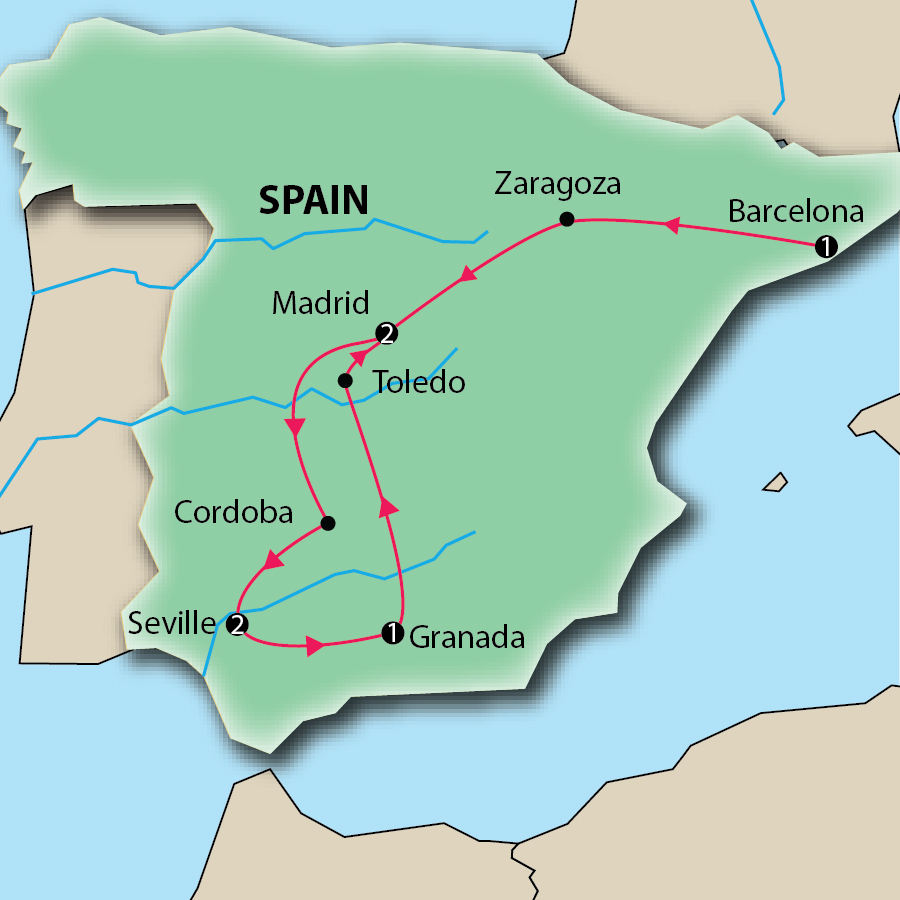 Day 1: Barcelona - Arrival
Upon arrival, make your own way to your hotel in Barcelona. The remainder of the day is at leisure in this vibrant city.
Hotel: Catalonia Atenas
Day 2: Barcelona - Zaragoza - Madrid
Depart Barcelona at 8 am. and nbsp;Your journey takes you through Lerida and Zaragoza where you will make a short stop. Continue to Madrid. and nbsp;In the evening use your 2-hour free entry ticket to the Reina Sofia Modern Art Museum displaying Picasso, Dali and Miro works. (B) and nbsp;
Hotel: Emperador Hotel Madrid
Day 3: Madrid - Cordoba - Seville
Depart in the morning through the La Mancha region, home of Don Quixote, to Cordoba in Andalusia. and nbsp;Explore Cordoba s architectural wonders during a and nbsp;guided tour of the city. Visit its beautiful mosque and walk around the Jewish Quarter with its narrow streets and Andalusian patios. In the afternoon, continue to Seville. Consider attending an optional flamenco show in the evening. (B,D)
Hotel: Hesperia Sevilla
Day 4: Explore Seville
p In the morning join a city tour visiting the Barrio de Santa Cruz with its narrow streets, the Park of María Luisa, and Plaza de España, followed by a panoramic sightseeing of the city. Consider joining an optional artistic tour including the Royal Alcazar Palace. The afternoon is at leisure. (B,D) /p
Hotel: Hesperia Sevilla
Day 5: Seville - Granada
After breakfast, depart Seville and drive through the heart of Andalusia through an endless number of olive trees until you reach Granada, the last stronghold of the Moorish Kingdoms up to 1492. Enjoy a city tour and visit the world famous Alhambra with its numerous halls and patios. Continue to the beautiful Generalife Gardens. After dinner, we recommend an optional Gipsy flamenco show in the Sacromonte quarter. (B,D)
Hotel: Melia Granada
Day 6: Granada - Toledo - Madrid
Depart in the morning for the Imperial City of and nbsp;Toledo, the first capital of Spain and a World Heritage City. Toledo is a treasure trove of history where Muslims, Jews, and Christians lived in harmony for over two centuries. Enjoy lunch and a sightseeing and nbsp;tour through Toledo's narrow streets and alleys. and nbsp;Continue to Madrid in the afternoon. (B,L)
Hotel: Emperador Hotel Madrid
Day 7: Madrid - Return
p class="MsoNoSpacing" Make your own way to Madrid airport for your return flight home. (B) span style="font-family: Arial, sans-serif;" /span /p

Touring Date

Land Only

Land + Air

Single
(Land Only)

Single
(Land + Air)

10/28/2017 - 11/3/2017

$1,199

11/4/2017 - 11/10/2017

$1,199

11/11/2017 - 11/17/2017

$1,199

11/18/2017 - 11/24/2017

$1,199

11/25/2017 - 12/1/2017

$1,199

1/13/2018 - 1/19/2018

$1,199

1/20/2018 - 1/26/2018

$1,199

1/27/2018 - 2/2/2018

$1,199

2/3/2018 - 2/9/2018

$1,199

2/10/2018 - 2/16/2018

$1,199

2/17/2018 - 2/23/2018

$1,199

2/24/2018 - 3/2/2018

$1,199

3/3/2018 - 3/9/2018

$1,199

3/10/2018 - 3/16/2018

$1,199

3/17/2018 - 3/23/2018

$1,199

3/24/2018 - 3/30/2018

$1,199

Note: Departures appearing above in green are guaranteed to operate by the tour operator.

Airfare Disclaimer
A NOTE ABOUT AIRFARE: We encourage you to buy your airfare from the tour operator, because if your tour cancels then your airlines tickets will be covered. Purchasing flights separately at a lesser rate and incorporating it with a Non-Guaranteed Departure Date can result in loss of total cost of your flight investment. Depending on the fare rules, flights may be Non-Refundable and/or Non-Transferable. Neither the tour operator and/or Atlas Cruises & Tours will be held responsible for loss if a tour is cancelled for Lack of Participation.

Documents
TRAVEL DOCUMENTS: Necessary Travel Documents such as Passports and Visas is the responsibility of the traveler. Passports must be valid six months from your return travel date.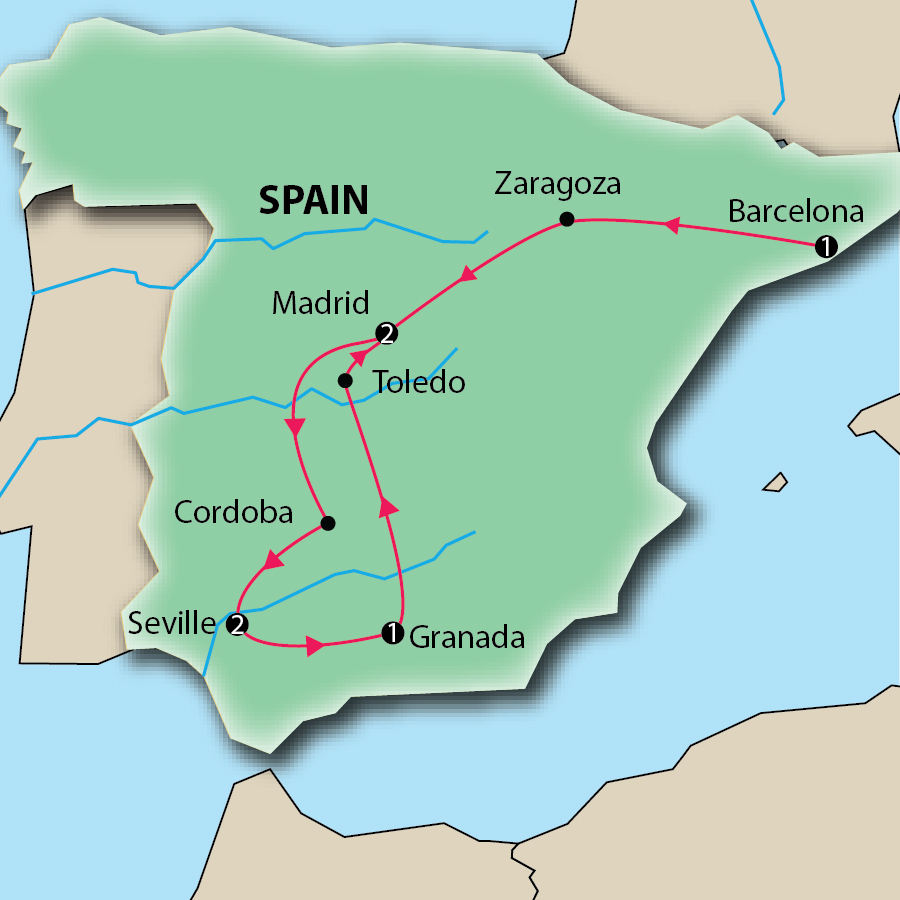 See Itinerary for highlights.